Governance
Ensuring the governance of CIM is effectively implemented to strengthen the human capital.
Suggests the improvement, increase and renewal of policies / directives / systems and procedures in CIM.
Monitoring the service delivery system (MS ISO 9001/2008).
Become the Secretariat and provide reports to the Committee on Integrity and Governance.
Integrity Reinforcement
Ensuring the implementation and institutional values of integrity in CIM such as through the exposure and early information in order to reduce the cases of misconduct.
Synchronizing and monitoring the integrity programme.
Implementing recovery programme of integrity.
Producing articles related to integrity programme.
Advising management in terms of integrity.
Complaints Management
Receive information or complaints about non-compliance or diverging action from CIM staff.
Report if there is any breach of integrity.
Receive, review, distribute and report any complaints to the service delivery of effectiveness of CIM.
Compliance
Ensures the compliance with the rules and standards that have been set and also to identify the weaknesses in the existing policies and regulations.
Organize a scheduled and unscheduled inspections of the practices, systems or policies, laws and regulations in force.
Ensuring the compliance with the instructions / regulations of CIM.
Tracking and Confirmation
Detect and verify the complaints of misconduct and violations of integrity. While the misconduct of a criminal nature should be reported to the responsible law enforcement agencies.
Disciplinary
Become the Secretariat and present the results of investigations / findings to the Disciplinary Board for further action.
Synchronizing action on breaches of integrity.
Implementing measures for breaches of integrity.
Other
Organizations of Communication Officer to the Corporate Integrity Development Center (CIDC).
Provides a reports related on integrity to CIDC,KPDNKK and JPA.
Control the quality records of CIM (EN ISO 9001/2008).
Checking on claims for overtime allowance.
Managing the Medal awards / Star / Honors for CIM staff.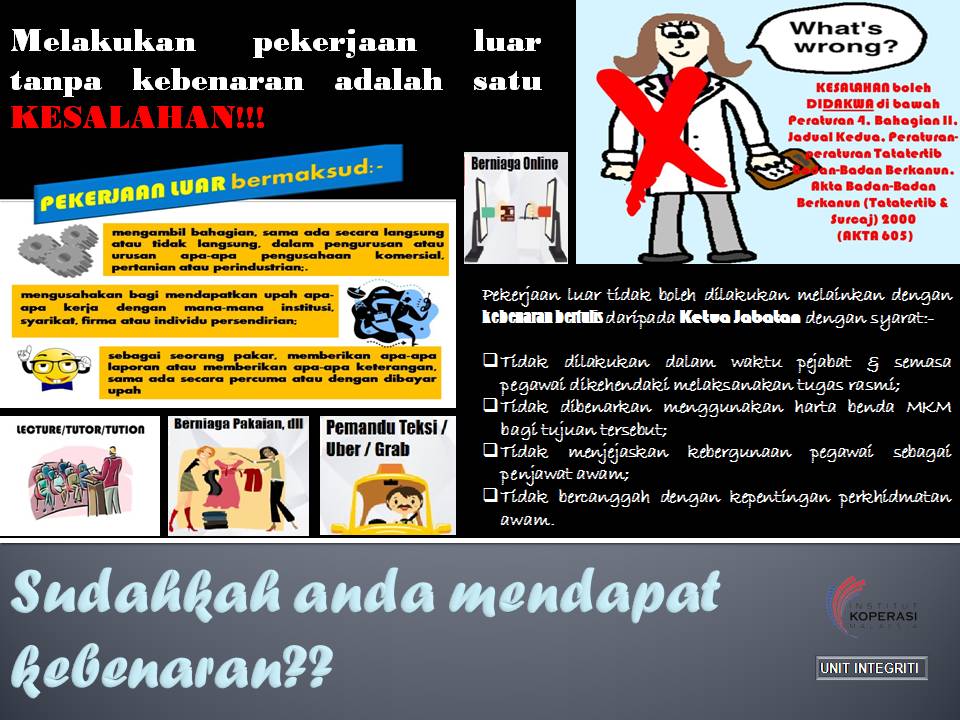 Contact Us:
For any enquiries please contact the information as below:
03-7964 9000 (samb: 161/160/168)
This email address is being protected from spambots. You need JavaScript enabled to view it.